Reporters Without Borders secretary-general Christophe Deloire talks about the global threat against journalists.
Video:
Café Pacific
By David Robie in Paris
WHEN Reporters Without Borders chief Christophe Deloire introduced the Paris-based global media watchdog's Asia-Pacific press freedom defenders to his overview last week, it was grim listening.
First up in RSF's catalogue of crimes and threats against the global media was Czech President Miloš Zeman's macabre
press conference stunt
late last year.
However, Zeman's sick joke angered the media when he brandished a dummy Kalashnikov AK47 with the words "for journalists" carved into the wood stock at the October press conference in Prague and with a bottle of alcohol attached instead of an ammunition clip.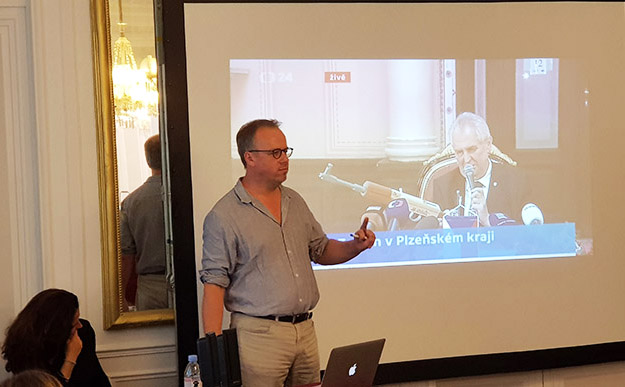 RSF's Christophe Deloire talks of the Czech President's anti-journalists gun "joke".
Image: David Robie/PMC
Zeman has never been cosy with journalists but this gun stunt and a recent threat about
"liquidating" journalists (another joke?)
rank him alongside US President Donald Trump and the Philippines leader, Rodrigo Duterte, for their alleged hate speech against the media.