Students protest at the University of the Philippines Manila today over the alleged
election irregularities.

IMAGE: APR

By DAVID ROBIE in Tāmaki Makaurau
Sadly, the Philippines has sold its soul. Thirty six years ago a People Power revolution ousted the dictator Ferdinand Marcos after two decades of harsh authoritarian rule.
Yesterday, in spite of a rousing and inspiring Pink Power would-be revolution, the dictator's only son and namesake "Bongbong" Marcos Jr seems headed to be elected 17th president of the Philippines.
And protests have broken out after the provisional tallies that give Marcos a "lead of millions" with more than 97 percent of the vote counted. Official results could still take some days.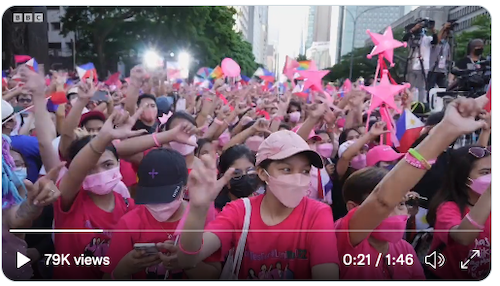 The Pink Power volunteers would-be revolution … living
the spirit of democracy.

IMAGE: BBC screenshot APR
Along with Bongbong, his running mate Davao City Mayor Sara Duterte, daughter of strongman Rodrigo Duterte, president for the past six years and who has been accused of human rights violations over the killings of thousands of alleged suspects in a so-called "war on drugs", is decisively in the lead as vice-president.