Filipinos in the Wellington meeting make their pledge simultaneously with the
Auckland group for "history, truth and democracy" in the Philippines.
IMAGE: Del Abcede/APR




COMMENTARY: By DAVID ROBIE

MIGRANTS and overseas Filipinos in Aotearoa New Zealand have called on the governments of both Australia and New Zealand to halt all military and security aid to the Philippines in protest over last month's "fraudulent" general election.
At simultaneous meetings in Auckland and Wellington, a new broad coalition of social justice and community campaigners endorsed a statement pledging: "Never forget, never again martial law!"
"Bongbong" Marcos Jr, the son of the late dictator Ferdinand Marcos Sr, was elected President in a landslide ballot on May 9 and will take office at the end of this month.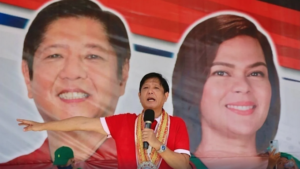 His father ruled the Philippines with draconian leadership — including 14 years of martial law — between 1965 and 1986 until he was ousted by a People Power uprising.